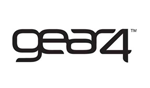 Gear4 Case iPhone 7 Piccadily
Rose Gold
GEAR4's Piccadilly case has universal appeal. The Piccadilly for iPhone 7 Plus provides unrivaled impact protection for such a stylish design. Thank D3O. Think GEAR4. The sleek Piccadilly case for iPhone 7 Plus has a transparent PC back, with advanced D3O technology inside. The D3O comes in metallic, colour matched shades designed to harmonize with your new phone.

GEAR4 Trusted Protection
We have teamed up with materials experts D3O to create a new range of stylish phone cases that not only look great but also protect your phone from being damaged. Where else is D3O Trusted? As well as electronics, D3O protective solutions are used by global brands in sports, motorcycle, defense and industrial workwear.

How D3O Technology works
What's inside?

D3O materials in their raw state flow freely when moved slowly, but on shock, lock together to absorb and disperse energy, before instantly returning to their flexible state. This reaction is counter intuitive. The greater the force of the impact, the more the molecules lock together and the greater the protection.