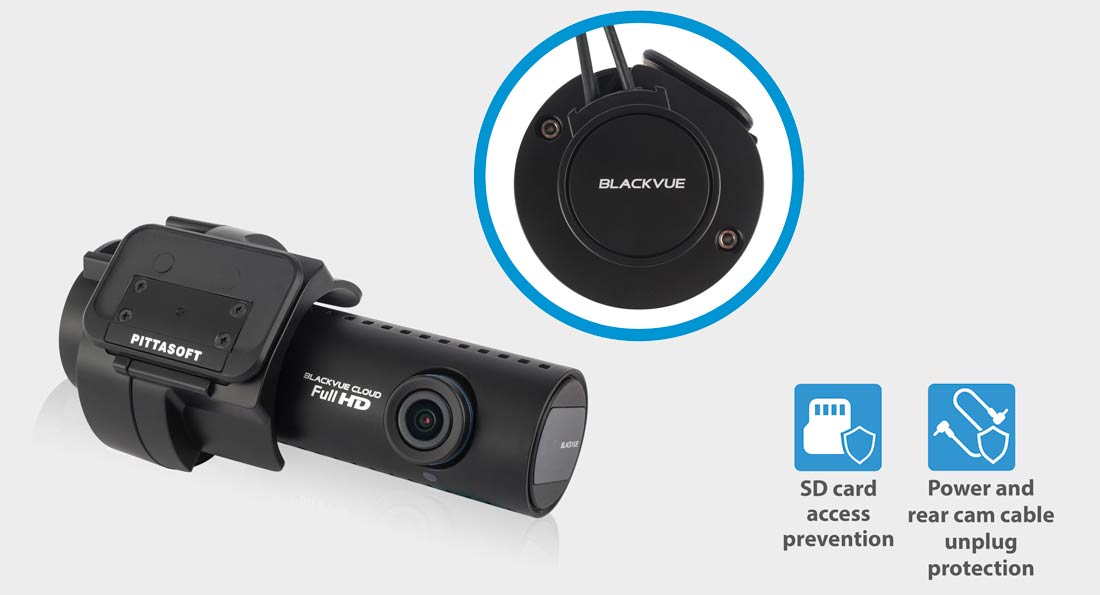 TAMPER-PROOF CASE (OPTIONAL)

The BlackVue Tamper-Proof Case is a security accessory for BlackVue DR650S Series dashcams. It blocks physical access to the microSD card slot, and prevents unplugging the power and coaxial cables, thus highly reducing risks of data tampering.
---
Model Name
DR650S-2CH

Speaker
Built-in

Channel
2 Channels

LED
Front: Recording LED, GPS LED, Wi-Fi LED, Front Security LED
Color/Size/Weight
Front: Black / Width 118.5 mm x Height 36 mm / 96 g
Rear: Black / Width 67.4 mm x Height 25 mm / 28 g Sensor 3-Axis acceleration sensor

Memory
microSD Card (16 GB/32 GB/64 GB/128 GB)

Backup Battery
Built-in Super Capacitor

Recording Mode
Normal Recording + Event Recording (Impact Detection) +
Parking Mode Recording (Impact and Motion Detection).
* For Parking mode recording, a Power Magic Battery Pack or Power Magic Pro is recommended.

Button
Wi-Fi / Format Button
* Self-format Function: Press it for 10 seconds to format the microSD card.
Proximity sensor : Voice recording on/off
* Touch the button or it recognizes when a hand approaches to within

Camera
Front: CMOS Sensor (Approx. 2.1 M Pixel)
Rear: CMOS Sensor (Approx. 1 M Pixel)

Input Voltage
DC 12V – 24V (DC Plug: (Ø3.5 x Ø1.35), MAX 1A/12V)

Viewing Angle
Front: Diagonal 129°, Horizontal 103°, Vertical 77°
Rear: Diagonal 129°, Horizontal 108°, Vertical 57°

Current Consumption
Avg. 400mA (4.8W at 12V, when GPS and Wi-Fi is On)
Avg. 300mA (3.6W at 12V, when GPS and Wi-Fi is Off)
* Actual power consumption may vary depending on use conditions and

Resolution/FPS
Full HD (1920×1080) @ 30 fps – HD (1280×720) @ 30 fps
Full HD (1920×1080) @ 15 fps – HD (1280×720) @ 15 fps
HD (1280×720) @ 30 fps – HD (1280×720) @ 30 fps
HD (1280×720) @ 15 fps – HD (1280×720) @ 15 fps

Operating Temp
-20? – 60? (-4°F – 140°F )

Image Quality
Highest
Normal

Storage Temp
-20? – 70? (-4°F – 158°F )

Compression Codec
MP4

Certifications
Front: FCC, CE, RoHS, Telec, RCM, WEEE
Rear: FCC, CE, RoHS, RCM, WEEE

Wi-Fi Built-in
(802.11 b/g/n (2.4~2.4835 GHz))

Software
BlackVue Viewer
* Windows XP or higher and Mac Leopard OS X

GPS
Built-in

Application
BlackVue C Application (Android 4.4.2 or higher, iOS 8.0 or higher)

MIC
Built-in