Garmin Nuvi 40LmBack
Information
Start out for your destination and leave the navigating to nüvi 40LM
Kode
: 287
Shipping Weight
:
Price
: Rp. 1.699.000
Last Update
: 02/02/2013 14:17:44
Product Detail
Start out for your destination and leave the navigating to nüvi 40LM. It features a 4.3" (10.92 cm) touchscreen and provides accurate, turn-by-turn directions that speak street names. It also includes FREE lifetime map updates.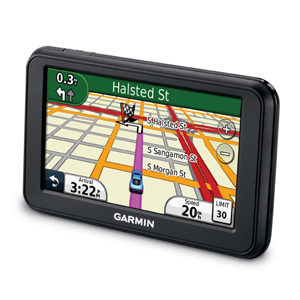 Get Turn-by-turn Directions
nüvi 40LM's intuitive interface greets you with 2 simple choices: "Where To?" and "View Map." Touch the screen to easily look up addresses and services and to be guided to your destination with voice-prompted, turn-by-turn directions that speak street names. It comes in 2 mapping versions and has preloaded maps for the lower 48 states plus Hawaii and Puerto Rico, or full coverage of the U.S. and Canada. nüvi 40LM's speed limit indicator shows you how fast you can go on most major roads. With its "Where Am I?" emergency locator, you always know your location. It also comes preloaded with more than 5 million points of interest (POIs) and offers the ability to add your own.
Enjoy FREE Lifetime Map Updates
With FREE lifetime map¹ updates, you always have the most up-to-date maps, POIs and navigation information available at your fingertips. Map updates are available for download up to 4 times a year with no subscription or update fees and no expiration dates.
Know the Lane Before It's Too Late
Now there's no more guessing which lane you need to be in to make an upcoming turn. Available in select metropolitan areas, lane assist with junction view guides you to the correct lane for an approaching turn or exit, making unfamiliar intersections and exits easy to navigate. It realistically displays road signs and junctions on your route along with arrows that indicate the proper lane for navigation.
¹If you purchase a nüMaps Lifetime subscription (sold separately or bundled together with certain GPS models), you will receive up to 4 map data updates per year, when and as such updates are made available on Garmin's website, for 1 compatible Garmin product until your product's useful life expires or Garmin no longer receives map data from its third party supplier, whichever is shorter. A product's "useful life" means the period during which the product (a) has sufficient memory capacity and other required technical capabilities to utilize current map data and (b) is capable of operating as intended without major repairs. A product will be deemed to be out of service and its useful life to be ended if no updates have been downloaded for such product for a period of 24 months or more. Unless otherwise stated, the updates you receive under the subscription will be updates to the same geographic map data originally included with your Garmin product when originally purchased. In some instances, your Garmin product might not have sufficient memory remaining for you to load an update to the map data, in which case you will need to either (a) select reduced map data coverage for your updates, or (b) purchase separately a microSD™/SD™ card (if and as applicable to your Garmin product) and load all or a portion of the map data coverage for your updates to the card and insert the card into the microSD/SD card slot contained in your Garmin product. If neither of the measures in (a) or (b) can be used to address your product's lack of sufficient remaining memory, then Garmin may conclude that the "useful life" of your product has expired. Garmin may terminate your nüMaps Lifetime subscription at any time if you violate any of the terms of this agreement or your subscription. Your nüMaps Lifetime subscription may not be transferred to another Garmin product.
Physical & Performance

Unit dimensions, WxHxD:
4.9"W x 3.1"H x .7"D (12.4 x 7.9 x 1.8 cm)
Display size, WxH:
3.8"W x 2.3"H (9.7 x 5.8 cm); 4.3" diag (10.9 cm)
Display resolution, WxH:
480 x 272 pixels
Display type:
WQVGA color TFT with white backlight
Weight:
5.2 ounces (148.0 g)
Battery:
rechargeable lithium-ion
Battery life:
up to 2 hours
Headphone jack/audio line-out:
no
High-sensitivity receiver:
yes
Waterproof:
no
Maps & Memory

Preloaded street maps:
yes
Includes lifetime map updates:
yes
nüMaps Guarantee:
yes
3-D terrain view:
no
3-D buildings and landmarks view:
no
Built-in memory:
internal solid state
Accepts data cards:
microSD™ card (not included)
Waypoints/favorites/locations:
1000
Routes:
0
Features & Benefits

Drive stress-free. Save time and money.
Voice prompts (e.g. "Turn right in 500 ft."):
yes (internal speaker)
Speaks street names (e.g. "Turn right ON ELM STREET in 500 ft."):
yes
Voice-activated navigation (operate device with spoken commands):
no
Traffic compatible (routes around traffic with a receiver and subscription):
no
Lifetime traffic updates (receive free lifetime traffic updates):
no
Lane assist (guides to proper lane for navigation):
yes
Junction view (displays junction signs):
yes
myTrends™ (predicts your routes):
no
trafficTrends™ (calculates routes based on predicted traffic flow):
no
ecoRoute™ (calculates a more fuel-efficient route):
no
Auto sort multiple destinations (provides most direct route):
no
Route avoidance (avoid highways, tolls etc.):
yes
Garmin nüLink! services: (receive accurate real-time travel information):
no
XM® compatible for U.S:
no
Navigate safely and easily.
Bluetooth® wireless technology:
no
Speed limit indicator (displays speed limit for most major roads in the U.S. and Europe):
yes
Where Am I? (find closest hospitals, police & gas stations, nearest address & intersection):
yes
Garmin Locate™ (marks position when removed from windshield mount):
no
Enhanced pedestrian navigation (guides you as you walk around town):
no
Photo navigation (navigate to geotagged photos):
no
Exit services (tells you approaching services on highway):
no
Custom POIs (ability to add additional points of interest):
yes
World travel clock, currency & unit converter, calculator:
no
Qwerty or ABC keyboard (choose keyboard layout):
yes
Alarm clock:
no
Garmin Lock™ (anti-theft feature):
no
Enjoy the drive and customize.
Garmin Garage™ vehicles compatible (download car-shaped icons to your device):
yes
Garmin Garage™ voices compatible (download custom voices to your device):
yes
Picture viewer:
no
MP3 player:
no
Audio book player:
no
Additional
Trip Planner: no
Trip Log: yes
This USB mass storage device is compatible with Windows® XP or newer and Mac® OS X 10.4 or later.
1
Anda bisa berbelanja di website kami, dengan
registrasi
terlebih dahulu maupun langsung berbelanja tanpa registrasi. Registrasi ini gratis.
1. Memilih dan membeli Produk
Jika Anda tidak menemukan produk yang Anda cari pada halaman utama, silakan mencarinya melalui kotak kategori yang telah kami sediakan. Terdapat sub-kategori yang dapat membawa Anda kepada produk yang bersangkutan. Setelah menemukan produk yang Anda cari, silahkan klik pada gambar produk yang tersedia atau nama produk untuk informasi yang lebih detail mengenai produk yang Anda cari. Atau bila Anda tidak memerlukan informasi lebih lanjut Anda bisa menggunakan fasilitas Buy Now untuk langsung membeli atau memesan produk tersebut. Setelah Anda mengklik link Buy Now maka produk tersebut secara otomatis akan berada dalam shopping cart Anda. Anda dapat meneruskan belanja ataupun melakukan pembayaran atau checkout untuk mengkonfirmasi pembelian produk tersebut. Anda juga dapat melakukan update atas barang belanjaan Anda melalui halaman cart Anda. Kami juga menyediakan fasilitas kotak Shopping Cart di kanan atas untuk memantau pembelian yang telah Anda lakukan.
2. Checkout
Fasilitas checkout dapat Anda gunakan apabila Anda telah menemukan produk yang ingin Anda beli. Sebelum dapat melakukan checkout, Anda terlebih dahulu harus telah memiliki account di TokoPDA.com . Apabila Anda masih belum memilikinya silahkan untuk melakukan
registrasi
baru. Pada halaman checkout Anda akan dikonfirmasikan mengenai alamat kirim dan metode-metode dalam penyelesaian proses checkout seperti, metode pengiriman dan metode pembayaran yang kami sediakan untuk Anda. Setelah proses checkout selesai, silahkan untuk melakukan pembayaran sesuai dengan jumlah yang tertera dan alamat rekening yang kami miliki. Toko PDA berhak menghubungi Anda apabila produk yang Anda beli belum dibayar ataupun ada kesalahan-kesalahan tekhnis dalam proses belanja Anda untuk proses ralat.
3 . Konfirmasi dari TokoPDA.com
Anda akan mendapatkan konfirmasi mengenai produk yang dipesan dari pihak Support TokoPDA.com, baik melalui email yang Anda registrasikan ataupun via telepon oleh customer support kami.
4. Pembayaran dari pemesan
Setelah mendapat konfirmasi tentang kesediaan product yang anda ingini dan detail jumlah uang yang harus anda transfer, anda bisa mentransfer pembayaran ke salah satu bank yang kami tunjuk.
Anda bisa mengkonfirmasikan pembayaran anda ke kami melalui email sales@tokopda.com atau melalui telepon (021) 6017510
5. Konfirmasi pengiriman
Kami akan memproses pesanan anda setelah ada konfirmasi pembayaran, dan mengkonfirmasikan pengiriman.
PAYMENT
TokoPDA.com menyediakan beberapa alternatif pembayaran yang Anda rasakan terbaik. Adapun cara pembayaran yang dapat dilakukan adalah:
1. Transfer Bank / ATM
Anda dapat melakukan pembayaran langsung dengan cara transfer, apabila Anda melakukan belanja secara Online. Produk yang Anda pesan akan segera kami kirim setelah Anda melakukan pembayaran serta melakukan konfirmasi atas pembayaran tersebut. Apabila tidak ada konfirmasi atas pembayaran tersebut, maka order Anda akan di Pending sampai ada konfirmasi.
2. Tunai / Cash
Metode Pembayaran ini dapat Anda lakukan di counter kami.
3 . Kredit Cicilan
Sedang di proses
4. Kartu Kredit
Sedang Diproses
SHIPPING
Berikut ini kami sampaikan informasi mengenai pembayaran dan pengiriman barang pesanan Anda.
Pembayaran
* Total pembayaran yang harus Anda bayarkan adalah sesuai dengan jumlah kami konfirmasikan.
Jumlah yang tertera setelah anda check out, belum termasuk dengan biaya lain seperti pajak atau biaya pengiriman.
* Sebelum dan sesudah Anda melakukan pembayaran, Kami rekomendasikan agar Anda melakukan konfirmasi ke TokoPDA.com .
Email : sales@tokopda.com
* Silahkan melakukan pembayaran via transfer melalui Bank dan nomor rekening yang tercantum di bawah ini.
Not Available
Pengiriman
* Pengiriman akan kami lakukan setelah mendapat konfirmasi pembayaran dari Anda dan setelah kami menerima pembayaran Anda dengan tepat.
* Barang pesanan Anda akan Kami kirimkan melalui perusahaan-perusahaan transportasi seperti PT. Tiki Indonesia dan lainnya.
Semua kerusakan yang diakibatkan selama pengiriman produk menjadi tanggung jawab dari pihak TokoPDA.com dan akan mendapatkan penggantian dengan produk baru.
TokoPDA.com tidak memberikan jaminan terhadap kerusakan atau cacat, apabila Anda telah menerima produk tersebut dalam keadaaan baru dan berfungsi sebagaimana semestinya. Kerusakan yang terjadi akan mengacu pada garansi resmi yang diberikan oleh TokoPDA.com terhadap masing-masing produk.
Pembatalan Transaksi Pembelian
(dalam kondisi telah melakukan pembayaran)
Pembatalan yang dilakukan sendiri oleh pihak pembeli sebelum produk dikirim, dikenai denda Rp. 50.000/produk. Pembatalan yang dilakukan setelah produk dikirim akan dikenakan denda Rp. 100.000/produk. Pembatalan karena kesalahan spesifikasi produk tidak dikenakan biaya apapun, dan uang akan dikembalikan penuh. TokoPDA.com berhak melakukan pembatalan atas order pembelian apabila dirasa perlu dan uang yang telah diterima akan dikembalikan penuh. Pembatalan Transaksi Pembelian ( Dalam kondisi belum melakukan pembayaran ) Pembatalan dapat dilakukan melalui email ke :
sales@tokopda.com
Apakah Produk yang dijual Toko PDA bergaransi ?
Ya, Toko PDA menjual handset-handset dengan garansi dari vendor masing-masing.
Apakah harga yang tercantum di web Tokopda.com merupakan harga yang sebenarnya jika saya mengunjungi tokopda di counter Mangga Dua Mall?
Harga yang tercantum di web TokoPDA adalah harga standar dari kami atau mengikuti harga pasaran yang ada.
Bisakah Saya memesan tanpa melalui website TokoPDA.com?
Ya, melalui telepon atau Email. Kami akan mengirimkan produk yang Anda pesan setelah konfirmasi pembayaran.
Berapa hari barang saya akan tiba setelah konfirmasi pembayaran?
Pada kondisi normal antara 2-3 hari.