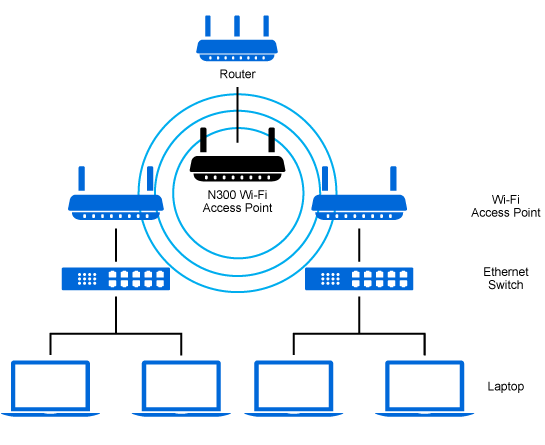 NETWORK BRIDGE
For a wider wireless range, connect the N300 Wireless Access Point to your router via Ethernet cable.
The N300 connected to the router will communicate with access points in other rooms across your home or home office.
Those access points will connect to your wired network – so you have a wider wired network without adding any more wires to your home.
To give multiple wired devices the power of an extended wired network, add a network switch.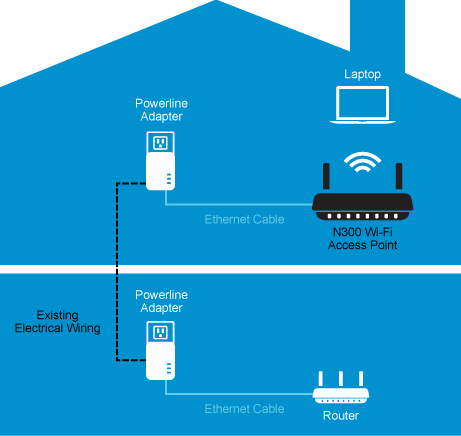 WI-FI ACCESS POINT
Extend your home network and reduce dead spots by adding Wi-Fi capabilities to your wired network.
Simply connect the access point to to your router or other wired internet adapter, and place it where you need a wireless boost.
For even greater flexibility and range, use along with a Powerline adapter (pictured, sold separately), which uses your home's electrical wiring to transmit internet signals.




WI-FI MEDIA CONNECTOR
Connect wired TVs, gaming consoles, media streaming devices, or Desktop computers, to your wireless network.
Connect the WAP300N to your device via Ethernet cable, and experience a powerful Wireless-N connection.
A direct, wired connection makes for more reliable streaming and gaming.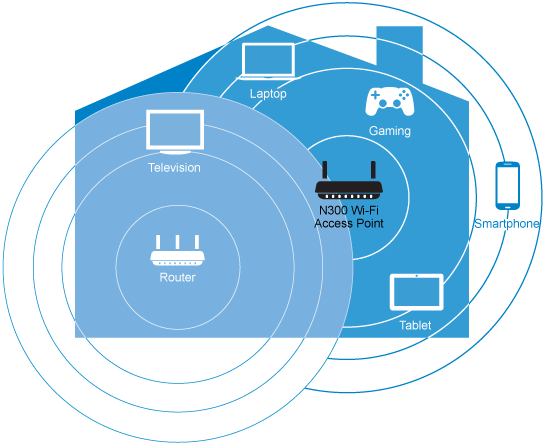 RANGE EXTENDER
Increases your Wi-Fi coverage by repeating the wireless signal of your router.
Configuration is easy through a web-based setup interface.
Works with any router.

Network Standards: IEEE 802.11b, IEEE 802.11a, IEEE 802.11g, IEEE 802.11n.
Buttons: Wi-Fi Protected Setup, Reset, Power (European Models only)
Warranty and Support: 1 year hardware limited warranty
LEDs: Power, Wi-Fi Protected Setup, Ethernet, Wireless
Operating Humidity: 10 to 80% Noncondensing
Ports: 1x Gigabit WAN 10/100 Ethernet Power
Max. Link Rate: 300 Mbps

Platform Compatibility: Windows XP, Windows Vista 32/64, Windows 7 32/64, Windows 8 32/64, Mac OS X 10.5.8 Leopard, Mac OS X 10.6.1 Snow Leopard, Mac OS X 10.7 Lion, Mac OS X 10.8 Mountain Lion, Mac OS X 10.9 Mavericks.